Occupied Cyprus Project

Occupied Cyprus Project - Objectives
The severe dearth of information on the continuing injustice against Cyprus, and the total lack of open forums for the innocent refugee victims to share their frustration, their pain, their worries and hopes has prompted us to start the ongoing project Occupied Cyprus.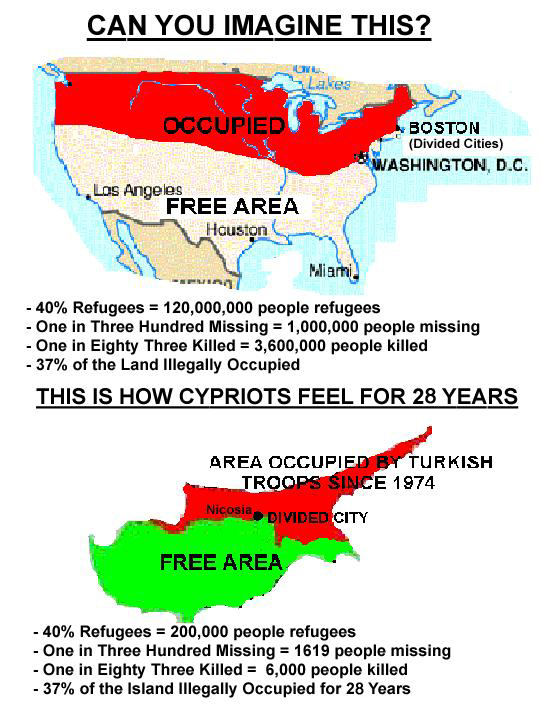 The objective of this project is to collect Home Pages relevant to towns and villages for the Turkish Occupied part of Cyprus. These pages will be the voice of our refugees, and will be their message to the world.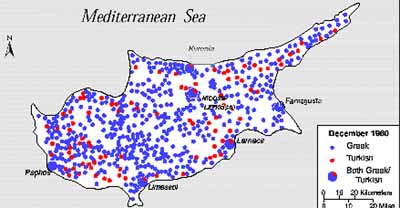 1960 Demographic Map of Cyprus showing Greek(blue) and Turkish(red) Cypriot populations living mixed with no troubles.
Our vision is to see one entry for every Occupied Village, one entry for every Occupied Town, one entry for every Occupied City in Cyprus!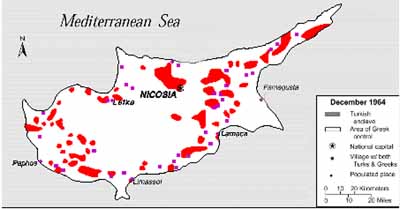 In 1964 Turkish extremists forced all Turkish Cypriots to enclave themselves in the red-areas, marking their first step for ethnic cleansing.
In this effort we would like to see broad personal involvement so we call upon EVERY REFUGEE from Cyprus to participate. Occupied Cyprus will remind the world of the unspeakable crimes committed against the innocent in 1974 by Turkey and will Demand Justice and Re-unification for Cyprus.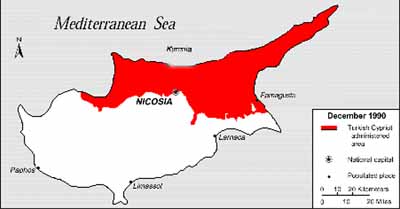 The 1974 Turkish invasion finished the ethnic-cleansing process by victimizing both Turkish and Greek Cypriots, and the current occupation is serving ONLY the military and geopolitical interests of TURKEY.
Nowadays Turkish-Cypriots are minority even in the occupied areas where settlers from mainland Turkey are being transferred to change the demographics of the occupied areas of Cyprus.
Turkish-Cypriots are forced to leave Cyprus. Some of them seek shelter and protection in the free areas of Cyprus, controlled by the Government of Cyprus recognized by the whole world, where they enjoy all freedoms and economic prosperity. All of them that request it, are issued Cyprus passports since they are legal citizens of Cyprus.
The real and barbaric face of Turkish occupying army can never be hidden. Turkey claimed that the 1974 invasion against the small island nation of Cyprus was done to "save" the Turkish Cypriots from the Greek-Cypriots!!! How can Turkey explain this? Why Turkish-Cypriots are coming to the free areas of Cyprus and live with Greek-Cypriots? The reason is because they try to save themselves from Turkey. Turkey is occupying Cyprus to serve ONLY Turkish interests and not Turkish-Cypriot or Greek-Cypriot interests.
We demand the immediate withdrawal of ALL Turkish Troops from Cyprus, the withdrawal of ALL illegal settlers from our towns and villages, and the SAFE return of ALL 200,000 Greek-Cypriots refugees back in their homes, and land.
We Demand TURKISH TROOPS AND SETTLERS OUT OF CYPRUS, AND RETURN OF ALL REFUGEES BACK TO THEIR HOMES.
We demand Justice and Re-unification of Cyprus.
---