SAGE LEAVED ROCK ROSE
(Cistus salviifolius)
---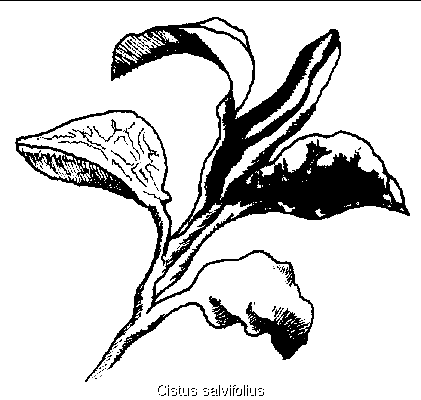 Appearance
An aromatic shrub with soft sage-like leaves. Long stalked white flowers appear between February and May, seldom lasting more than a day on the plant.

Habitat
This rock rose can dominate garigue or maquis vegetation and also the under storey of pine forests, giving a fine display of flowers in spring. Grows on both calcareous and non-calcareous formations from sea-level to 4,500 ft.

Uses and Properties
Like all cistus species this plant exudes ladanum, a dark gum with a pleasant, strongly aromatic, odour. According to legend this ladanum is secreted from the dew of Heaven, just like manna. Medicinally, ladanum is used against many disorders, taken internally or externally, while smelling it is enough to protect against infection from the plague and the smoke is said to be good for the eyes according to tradition folk healers. The plant is attractive to bees mainly for its pollen.

---