Laces - Embroideries
---
The Lefkara Lace-embroidery is a traditional work done by women in their homes. You can see them working outside in the sun, producing beautiful pieces of lace.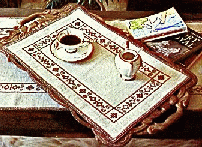 A beautiful piece of Lefkara Lace can fit in any modern household.
Crochet and cross-stitch are two more traditional ways of making embroidery which can give a tone of Cyprus culture and character in every home Traditional design of Lefkara Lace under the name Caroulia. Can be found in various diameters.
---
[INTRODUCTION][LACES][WEAVING][POTTERY]
---
Maintained By: Panayiotis Zaphiris (pzaphiri@glue.umd.edu) and Nicos Nicolaou (nicolaou@engr.umbc.edu)