Pottery - Wood Carving - Coppersmithery
---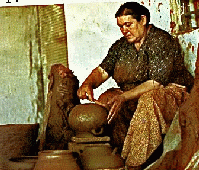 In Kornos, a village near Nicosia, terracotta pottery is still being produced the same ways thousands of years ago. Women can be seen working in the new building of the co-operative organization of potters or in their homes.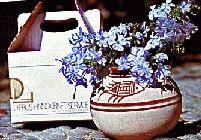 A modern piece of pottery decorated with a design taken from the archaeological museum in Nicosia.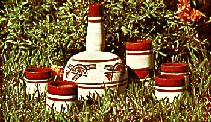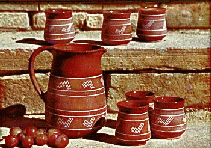 Wine tastes even better served out of these beautiful handmade Cyprus sts decorated with local motifs. Can be easily and safely carried in special packages.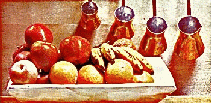 Woodwork and copper have a long tradition in Cyprus. In villages like Moutoullas near Troodos, you can see how the artisans carve off pieces of wood to make small items for modern use. A full range of copper and woodwork products is exhibited in the show rooms of the Cyprus Handicraft Centre.
---
[INTRODUCTION][LACES][WEAVING] [POTTERY]
---
Maintained By: Panayiotis Zaphiris (pzaphiri@glue.umd.edu) and Nicos Nicolaou (nicolaou@engr.umbc.edu)