Welcome to the home page of LAPATHOS -Ammochostos district-
a village in Cyprus, under illegal Turkish military occupation since 1974.
All Greek inhabitants of Lapathos village are refugees since 1974. They were forced out of Lapathos by Turkish military forces that invaded the island of CYPRUS. In their effort to change the demographics of the occupied areas, the Turks changed the name of Lapathos, to "Bogazici", which means "passing". The name Bogazici was given by Turkish Cypriots that were living in Agios Theodoros village Larnaca district before 1974, and moved to Lapathos, after the 1974 Turkish invasion.
[Home] [Missing Persons] [Letters] [Genealogical Tree] [Kallis Family]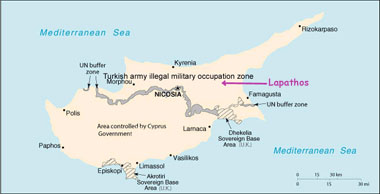 Map of Cyprus and pin-point location of occupied Lapathos. Click to enlarge.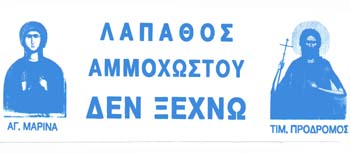 Lapathos village, Ammochostos district, CYPRUS is under illegal military turkish occupation since 1974. The two Greek orthodox churches in Lapathos are dedicated to St. Marina, and St. John the Baptist, Prodromos.
WE NEVER FORGET. WE STRUGGLE FOR SAFE RETURN OF THE GREEK CYPRIOTS BACK TO LAPATHOS AND REUNION OF CYPRUS.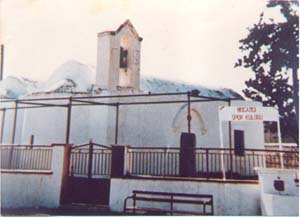 The Greek Orthodox church of Lapathos village, Famagusta is dedicated to St. John Prodromos, and was built in early 18th century. The Turks transformed the church into a youth club after the 1974 Turkish invasion.
Click on image to enlarge.
Photograph

Brief description

Primary School 1960 E and St Classes. Teachers: Christodoulos Kalli, and Panayiotis Athanasiou
Students: Charalambos Athanasi Liasides, Georghios Flourentzou, Antrikkos Procopi, Antrikkos Loizou, Pambos Andreou, Kyriacos Athanasi Liasides, Soteris tis Varvarous, Kokis Athanasiou, Makis Michael Kokkinou, Phivos Andrea, Maroulla Athanasi Liasides, Nitsa Panayi, Nitsa Georghiou Toumazou, Maroulla Kokkinou, Androulla Soli, Maroulla Andrea Kalli, Androulla Theklopus, Androulla Athanasi, Nina
Primary School 1959. Teacher: Christodoulos Kalli
Students: Antrikos Prokopi, Thasos Panaou, Philippos Sotiri, Vassos Kokkinos, Kokis Athanasi, Antrikos Loizou, Pambos Athanasi Liasides, Makis Michael, Pambos Andrea

Nina, Androula, Eftychia Ath. Liasides, Vania Andrea, Kyriakou Flourentzou, Nitsa Panaou, Nitsa Georghiou Toumazou, Androulla Athanasi, Soulla Prokopi, Maroulla Andrea

Lapathos Primary School 1973-1974 D, E and ST Classes
Teachers Mr G. Papageorgiou (Trikomo) and Ms Margarita Massonou (Gypsou)
Boys Up from left : Giorgos Ath. Liassides -Panayiotis G.Liassides-Soteris k. Moria- Antonis S.Prodromou-Moisis Lontou-Soteris Athanassiades-Demetris Fl. Cristodoulou-Panayiotis K. Liassides.
Boys Down from left:Stelios K Pirita-Soteris P. Karanikolas-Kokos
Xampou-Giorgos P. Karanikolas- Akis K. Pirita-Demetris Fafaki-Soteris Assioti.
Girls Up from left :Maria Papavassili-Kallistheni Mouxtari-Eleni Champi-?
Pirita-Soteroulla Panayioti- Lora Ttoouli-Nayia Demetri-Despo Fafaki-Marina Alexi-Antonia Sofokli.
Girls Down from left : Christa Champi-Militsa Shianou-Tassoulla Pai
Liassidi-Eleni Ttoouli-Popi Pishia-
Dorothea Theori-Pantelitsa Champou-Antri Loizou-Despo Pishia.
A photo from our village taken by Jack Iakovides about 1970 showing Frossa, Demetris wife, walking with a donkey. You can also see Antonis Shianos preparing his "karretta" (wagon) for the fields. On the"karo" (wagon) we can see two of his children, Militsa and Antreas. Behind them is Stavroulla, Antonis Shianos wife.


The Lapathos Postal Service Stamp established 1 June 1893.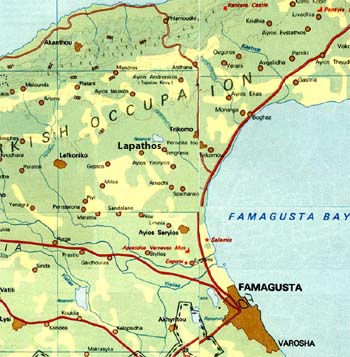 Detail location of Lapathos village, Famagusta in occupied Cyprus. Click to enlarge.
---
Farming:
Farming was very developed in Lapathos before the Turkish invasion of 1974. In 1973 there were 151 farmers (95 Greeks, and 56 Turks) that were breeding 1,758 sheeps, 403 goats, 36 bulls, 69 cows, and 4,177 chickens.
Transportation:
Lapathos is connected to the village Gypsou in SouthWest (4.5km), to the village Sigkrasis in East (3.5km), with village Agios Iakovos in the north (7km), and with the village Arnadi in the southeast (5.5km).
---
Lapathos village Related Links:
Fields between Lapathos and Milia villages are destroyed by the Turkish Occupation military regime.
Water wells in Lapathos village dry up because of the drought. The Elementary School of Stylloi village is abandoned and destroyed.
Letters of people of Lapathos (both Greek and Turkish Cypriots) to the Colonial Government of Cyprus in Famagusta in the 1930's
- Detail Geographical and Climatological Information about Lapathos, Ammochostos district, CYPRUS
- GREEK AND TURKISH CYPRIOTS MEET July 9th, 2000: Lapathos Villagers' Re-Union Meeting

Click the image above to visit other Occupied Cyprus projects.
[Home] [Missing Persons] [Letters] [Genealogical Tree] [Kallis Family]
For problems, or questions regarding this web site contact George Attens (Athanasiades), Panayiotis Liassides, or Demetris Christodoulou
For technical problems contact Christos A. Neophytou
Last updated: February 16, 2005 13:38:14 -0800 Pacific Time