DAMASK ROSE
(Rosa damascena)
---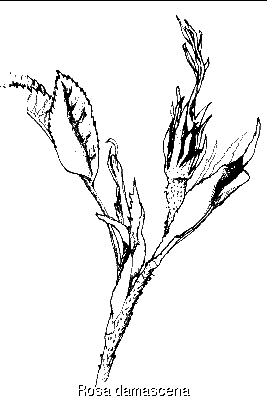 Appearance
Sprawling or erect shrub with armed branches. Leaves are divided into 5-7 leaflets, slightly downy. Between May and June sweetly scented pink flowers appear.

Habitat
Widely cultivated in Cyprus, this is a very ancient garden rose probably of hybrid origin. Also occurs as an escape from cultivation in hedges, on roadsides and in clearings in pine forests.

Uses and Properties
A sweet preserve is made from the petals which has cathartic properties. Also used in making rose water, attar of roses and in perfume making.

---