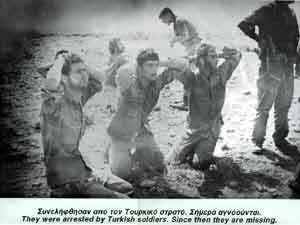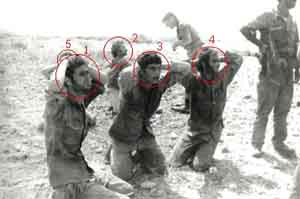 Photo in continuation of the previous ones. The Greek Cypriot soldiers were surrounded and captured by the Turkish army after the breakage of the Greek-Cypriot defense lines at "Mia Milia". "Mia Milia" is located north of the capital city of Nicosia. Forces of the Cyprus National Guard at Mia Milia defense lines were outflanked by a massive move of Turkish tanks from Nicosia (west) towards Famagusta (east) during the second phase of the Turkish invasion.
Since then, the fortune of these Greek-Cypriot soldiers, and many others, is still unknown.
The pictured Greek Cypriot soldiers have been identified as follows:
1. Korellis Antonakis, of Michael, 30 yrs old, from occupied Kythrea, Cyprus.
2. Nicolaou Panicos, of Chrysostomos, 26 yrs old, from occupied Achna, Cyprus.
3. Skordis Christophoros of George, 25 yrs old, from Idhalion, Cyprus.
4. Papayiannis Ioannis of Charalambos, 24 yrs old, from Aglantzia, Cyprus.
5. Hadjikyriacos Ioannis, of Charalambos, 19 yrs old, from occupied Famagusta, Cyprus.
Turkey is still denying to provide ANY evidence for their fortune.
-Click on the photo to see the enlargement.