CYPRUS, an independent country, was invaded by Turkey in 1974. Two hundred thousand Cypriots of Greek, Maronite, Latin, and Armenian descent were forced out of their homes in northern Cyprus and became refugees in the south. Many thousands were killed, injured or raped. Large numbers of illegal settlers were brought in from mainland Turkey and most Cypriots of Turkish descent, our co-patriots, were forced into exile.

Occupied northern Cyprus has a puppet government controlled by Turkey and protected by 40,000 Turkish soldiers. As specified by many International Agencies (eg. Amnesty International), Turkey has one of the worst records on Human Rights violations in the world.

Numerous United Nations Resolutions calling for the immediate withdrawal of Turkish troops and the return of all refugees to their homes have been blatantly ignored by Turkey. Meanwhile, the plight of the Cypriot people goes on. No refugee has ever been allowed back in occupied northern Cyprus. When they try to go back they are brutally attacked and murdered by the Turkish Occupation Forces.


We ask you kindly not to visit occupied northern Cyprus and thus financially, morally and politically provide support for the illegal and barbaric occupation of our homelands. Thank you for your understanding and we wish you a pleasant stay in free Cyprus.

NOTE: Visiting occupied northern Cyprus also constitutes a serious personal safety and health hazard. The following, for example, apply to occupied northern Cyprus.

1)There are reports of endemic hydatid disease, brucellosis, rabies, salmonellosis and bacterial meningitis.

2)The incidence of road traffic accidents, serious crime, military law, and violation of human rights is very high.

3) Medical facilities are of a very low standard.



The face of aggression: Turkish soldiers with orders to shoot to kill any refugee who attempts to enter occupied northern Cyprus.
For us, people from Ayios Epiktitos, lawful owners of properties in our village, resettlement to our village is DENIED by the Turkish military forces. Instead, an alternative offer, the one of treason is presented to us by the Turkish militants. They ask for our signature to recognize their puppet state of the so called "Turkish Republic Of Northern Cyprus", that is the TURKISH ARMY MILITARY OCCUPIED part of CYPRUS.

Cyprus Flag


The Flag of Cyprus which symbolizes peace and unity, is recognized by the whole world.

Turkish occupied areas were illegally declared as the puppet state of Turkey, the barbaric invading military force.

Cyprus is a full member of:
Cyprus effectively 1 May 2004 is a full member of the European Union:

Not only they have stolen our property, our history, and our identity, they even dare to ask their victims (us) to legalize their atrocities and violations of Human Rights since 1974.
If you are traveling to Cyprus we strongly urge you NOT to visit the occupied areas of the island. If you do so you will give economic and political support to the Turkish militants.
If property is presented to you for sale in the Occupied Cyprus and more specifically in Ayios Epiktitos, always know that you are going to acquire stolen property and that you too violate basic Human Rights concerning protection of property.

Turkey has already been convicted by the European Court of Human Rights as the country responsible for violating the Human Rights of Mrs. Titina Loizidou who has a house in Kyrenia and was forced out after the July 20, 1974 Turkish invasion.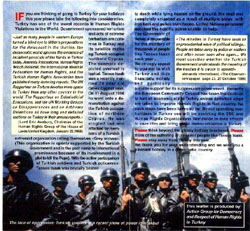 Brochure of the Action Group for Democracy and Respect of Human Rights in Turkey
Legal ports of entry to Cyprus are:
1. LARNACA International Airport.
2. PAPHOS Airport.
3. Limassol (Lemessos) port.
4. Larnaca Port.
Because of the July 20, 1974 Turkish invasion the Nicosia International Airport has been shut down and is now inside the buffer zone between Cyprus government troops and the Turkish invasion troops.

For more information about visiting Cyprus visit the Cyprus Tourism Organization Home Page. (French and German Versions also available)