The flag of Cyprus


Panoramic view of Ayios Epiktitos


The flag of Greece

Cyprus is full member of:

Cyprus, effectively May 1 2004, is a full member of the:
Cyprus is the third biggest island in Mediterranean sea. It is considered to be the south east boundary of Europe.
A few things about the Geographic location of Cyprus: Cyprus is located at the eastern end of the Mediterranean sea and has always considered to be the South-Eastern boundary of Europe. It lies at the point of intersection of three continents - Europe, Asia, and Africa. Turkey (the barbaric invading military force) is located at the north of the island; Syria, Lebanon and Israel are in the East; Egypt is in the South; and Greece is West.
Cyprus at the point of Intersection of 3 continents: Europe, Africa, and Asia.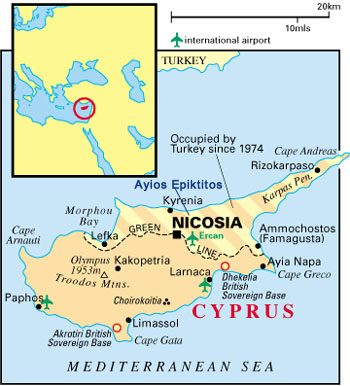 Our Village, Agios Epiktitos has been under illegal Turkish occupation since July 1974
Detailed Geographical Information and Maps of Cyprus and Ayios Epiktitos, including updated climatological information. (NEW)